Tin Can Welding Copper Wire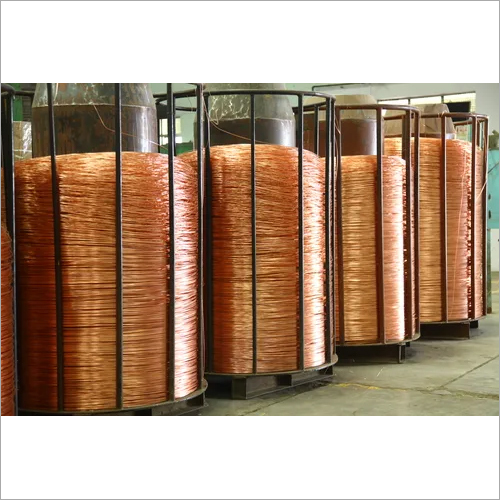 Tin Can Welding Copper Wire
Product Description
COMPOSITION

Manufactured from ETP grade copper
with Purity of 99.9% with less than 400
ppm oxygen or from Oxygen free
copper with purity of 99.95% with less
than 10 ppm oxygen.
SURFACE FINISHFibre Glass Covered Round Wires
Clean, Smooth, Bright and
free of oxidization and wire
drawing process residue.
PACKAGING
Palletised octabins of corrugated paper
with centre cone for trouble free dereeling
of 120 meters per minute.
Per Package Qty
Electrical Properties
Application
Mechanical Properties
250 kg, 500 kg, 850 kg per Octabin
Max. Specific resistance (mm2/m) 0.017241
Min. Conductivity (m/mm2) 58
For welding Tin Can Containers on high speed machines.
Yield Strength, Rp. 0.2 (N/mm2)
Minimum 180
Tensil Strength Rp. 0.2 (N/mm2) 245 - 285
Elogation at Fracture 22% - 28%
Sizes Available
Nominal Diameter of round section copper

wire with tolerance of 0.04 mm.
1.24 mm
1.38 mm
1.50 mm
1.60 mm
1.80 mm
2.00 mm
2.50 mm
Technical Specification
| | |
| --- | --- |
| Per Package Qty | Sizes Available |
| 250 kg, 500 kg, 850 kg per Octabin | Nominal Diameter of round section copper wire with tolerance of 0.04 mm. |
| Electrical Properties | 1.24 mm |
| Max. Specific resistance (mm2/m) 0.017241 Min. Conductivity (m/mm2) 58 | 1.38 mm |
| Application | 1.50 mm |
| For welding Tin Can Containers on high speed machines. | 1.60 mm |
| Mechanical Properties | 1.80 mm |
| Yield Strength, Rp. 0.2 (N/mm2) | 2.00 mm |
| Minimum 180 | 2.50 mm |
| Tensil Strength Rp. 0.2 (N/mm2) 245 - 28 | |
| Elogation at Fracture 22% - 28% | |