Rectangular Enamelled Copper Wire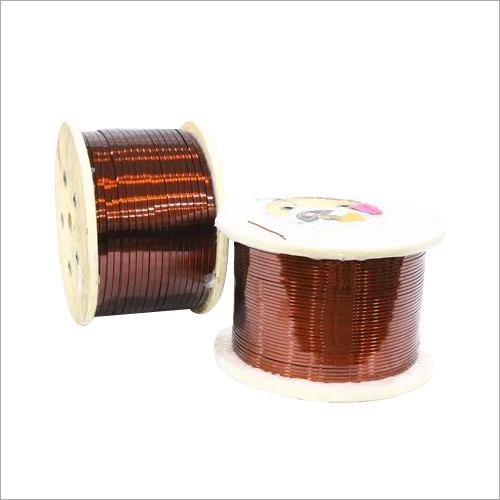 Rectangular Enamelled Copper Wire
Product Description
With experience of more fifty years, we are catering huge requirements of our patrons by manufacturing, exporting and supplying premium quality Rectangular Enamelled Copper Wire. Offered in plethora of thickness and diameters, this wire is manufactured by our deft professionals in adherence with international quality standards with the use of optimum quality copper and contemporary techniques. The offered wire is used in motors, transformers, refrigerators, washing machines and many other electrical equipments. Moreover, clients can avail this Rectangular Enamelled Copper Wire at highly competitive prices from us.

Features:

High tensile strength

Excellent finish

Corrosion proof


Uniform thickness
Enamelled Magnet Armature Winding Wires Made Of Aluminum Rectangular
We manufacture Rectangular Enamelled Wires up to 70 mm2 in various insulation system and temperature index from 155 D C to 220 Degree C.

Our products comply with IEC 69317, IS 13730, NEMA 1000, and also can be produced according to customer's requirements. We can offer Rectangular Wires in packing of 10 Kgs up to 100 Kgs.

Our enamelled wires are extensively applied in transformer, motor for air-conditioner, refrigerator, ice-box, washing machine, auto motor, compressor, microwave stove, charger, ballast, relay, degaussing coil, etc.
Technical Specification
Specification
Standard

Iec-60317-17
Nema
Mw-18c

Iec-60317-18

Iec-60317-16

Iec-60317-28

Iec-60317-29/
Nema
Mw-36c

Iec-60317-30
Iec-60317-47
Nema
Mw-20c

Iec-60317-58
Draft)

Thermal Class

105

120

155

180

200

220/240

220

120

180

Chemical Base Of Base Coat

Polyvinyl Acetal

Polyvinyl Acetal

Polyester

Polyesterimide

Polyesterimide

Polyimide

Polyamide-Imide

Polyvinyl Acetal

Polyesterimide

Chemical Base Of Top Coat

Polyamide-Imide

Epoxy-Bond Coat

Epoxy-Bond Coat

Range Of Wire (Diameter)

Cross Section Area Up To 80 Sp.Mm, Thickness : From 1.3-8 Mm, Width : From 2.0-16 Mm

Insulation Range

Iec Grade 1:0.060-0.110, Iec Grade 2:0.120-0.179;
Nema Grade Heavy : Increase In Thickness : 0.076-0.127, Grade Quadruple : Increase In Thickness : 0.127-0.178 Mm

In Addition To Base Coat Increase
In Dimensions, Additional Bond Coat
Increase In Thickness Of
0.030-.0.050 Mm




Standard Colour

Golden Yellow

Golden Yellow

Brown

Brown

Brown

Light Brown

Light Brown

Golden Yellow

Brown

Technical Properties As Per
Iec-60317-0-2

Flexibility & Adherence

:Mandrel Bending On Thickness
On Width

2-3 T & 3-4 W

2-3 T & 3-4 W

3-4 T & 4-6 W

3-4 T & 4-6 W

3-4 T & 4-6 W

3-4 T & 4-6 W

3-4 T & 4-6 W

2-3 T & 3-4 W

3-4 T & 4-6 W

:Adherence (no Crack After
Stretching %)

15

15

15

15

15

10

15

15

15

Heat Shock No Cracks After
Bending On Thickness/
Temperature C

2-3 T/155

2-3 T/155

6 T/175

6 T/200

6 T/200

6 T/260

6 T/240

2-3 T/155

6 T/200

Break Down Voltage At Room
Temp. (minimum) Volts

Grade 1 : > 1000, Grade 2: >2000

Resistance To Hot Transformer Oil

Excellent

Excellent

Not Applicable

Excellent

Excellent

Not Applicable

Not Applicable

Excellent

Excellent

Heat Bonding Temperature/Time

Not Applicable

Not Applicable

Not Applicable

Not Applicable

Not Applicable

Not Applicable

Not Applicable

110 C/48 H Or 120 C/24 H




Special Charactersistics
& Application

High Mechanical Strength, Strong
Adhesion Of Enamel To Copper
Conductor, Excellent Hydrolysis
& Oil Resistance

Good Thermal,
And
Overall Good
Mechanical,
Electrical And
Chemical
Properties

High Thermal,
And
Overall Good
Mechanical,
Electrical And
Chemical
Resistance

High Thermal,
Electrical And
Mechanical,
Properties,
Excellent Heat
Shock And
Burnout

Very High
Thermal
Properties

Very High
Thermal
Properties

Bondable Coating
With Excellent
Mechanical
Properties

Bondable Coating
With Excellent
Thermal
Properties