Fiber Glass Covered Copper Winding Wires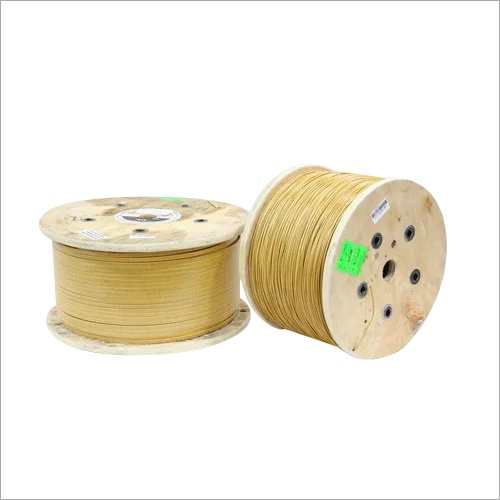 Fiber Glass Covered Copper Winding Wires
Product Description
Since incorporation of our business, we have been affianced in manufacturing, exporting and supplying the best quality Fiber Glass-Covered Copper Winding Wires. The offered wires are precisely manufactured by our dexterous professionals with the use of premium quality copper by employing highly advanced technology. Known for their excellent heat resistance and high conductivity, the provided wires are suitable for winding various kinds of electric motors. We put forward these Fiber Glass-Covered Copper Winding Wires at reasonable prices for the clients.

Features:.

High strength

Temperature resistance

Uniform thickness

Excellent finish
Enamelled Fiber covered varnish bonded Round Wire
We manufacture Glass Fibre Covered Varnish Bonded or Enamelled Glass Fibre Covered Varnish bonded wires of copper in accordance to IEC 69317 and IS 131730 in the size range from 1.00 mm to 16 mm (round) are produced in H Class and F class with various builds / covering as per the requirements of our customers.
The packing we offer is from 40 Kgs to 500 Kgs.
They find their application in traction motors and transformers.
Technical Details:
Physical properties of annealed copper
Density at 20C
g/cubic centimeter
8.89
Thermal Conductivity
G.cal/mm/sec/cm
0.93
Thermal capacity




Thermal Expansion - Linear (change in unit


16.8X10 -6
length at 0C




Melting Point
Deg C
1083
Tensile strength of annealed copper wire
Ultimate strength
kg force /mm
25.3-28.1
Yield strength
kg force /mm
6.3-8.4
Electrical properties of annealed copper wire
IACS Volume conductivity, min at 20 deg C
%
100 min.
Volume resistivity, max. at 20 deg C
Ohm. mm/m
0.017241(1/58)
Weight Resistivity, Maximum at 20 deg C
Ohm gramme/meter
0.15328
Thermal Coefficient of resistance at 20 deg C (change in unit resistance at 20 deg CC


0.00393
Fibre Glass Covered Rectangular Wires
Width (mm)

Glass Fibre Bare (mm)

Glass Fibre Enamelled (mm)

Single Grade G1

Double Grade G2

Single Grade 2 G1

Double Grade 2 G2

Over

Up to

Min.

Max.

Min.

Max.

Min.

Max.

Min.

Max.

-

3.15

0.12

0.20

0.21

0.33

0.24

0.36

0.37

0.51

3.15

6.30

0.14

0.22

0.23

0.37

0.26

0.38

0.39

0.53

6.30

12.50

0.16

0.26

0.27

0.43

0.28

0.42

0.43

0.57

12.50

16.00

0.18

0.30

0.31

0.47

0.30

0.46

0.47

0.63
Fibre Glass Covered Round Wires
| | | | | |
| --- | --- | --- | --- | --- |
| Size (mm) | Tolerance | Double covering Overall Dia. Max | Covering Min. | Resistance 0hm / meter at 20 Deg. C |
| mm | mm | mm | mm | Nom. |
| 3.00 | 0.030 | 3.285 | 0.200 | 0.0024180 |
| 3.15 | 0.032 | 3.435 | 0.200 | 0.0021932 |
| 3.35 | 0.034 | 3.690 | 0.200 | 0.0019391 |
| 3.55 | 0.036 | 3.890 | 0.250 | 0.0017268 |
| 4.00 | 0.040 | 4.345 | 0.250 | 0.0013601 |
| 4.50 | 0.045 | 4.845 | 0.250 | 0.0010747 |
| 5.00 | 0.050 | 5.345 | 0.250 | 0.0008705 |
| 5.50 | 0.055 | 5.845 | 0.250 | 0.0007194 |
| 6.00 | 0.060 | 6.345 | 0.250 | 0.0006045 |
| 6.50 | 0.065 | 6.845 | 0.250 | 0.0005151 |
| 7.00 | 0.070 | 7.345 | 0.300 | 0.0004441 |
| 7.50 | 0.075 | 7.845 | 0.300 | 0.0003869 |
| 8.00 | 0.080 | 8.345 | 0.300 | 0.0003400 |
PROPERTY

Type Class

BARE
155 Class

BARE
180 Class

Enamelled 155 Class

Enamelled 180 Class




PROPERTY

Type Class

STANDARD

IS:13730

Part 32

Part 31

Part 32

Part 31




STANDARD

IS:4685

IEC - 60317

Part 32

Part 31

Part 32

Part 31




COVERING

Double

SIZE

mm

2.5 mm T

2.5 mm T

2.5 mm T

2.5 mm T




ELONGATION (%)

IS - Min

COVERING

Double

Grade G2

Grade G2

Grade 2 G2

Grade 2 G2




BIC Value

ELONGATION (%)

IS/IEC - Min.

30

30

30

30




FLEXIBILITY (NO CRACK)

IS

BIC Value

40

40

40

40




BIC Value

SPRINGNESS (DEG.)

IS/IEC - Max.

5.5

5.5

5.5

5.5




HEAT SHOCK 48 HRS. UNBENT

IS

BIC Value

4.0

4.0

4.5

4.5




BIC Value

FLEXIBILITY (NO CRACK)

IS/IEC

10 x w/T

10 x w/T

10 x w/T

10 x w/T




TACKINESS 65 DEG. C -
5 MIN

IS

BIC Value

8 x w/T

8 x w/T

8 x w/T

8 x w/T




BIC Value

ADHERENCE (10% PREST.)

IS/IEC - Max.

No Crack

No Crack

No Crack

No Crack




BDV (V)

IS - Min

BIC Value

No Crack

No Crack

No Crack

No Crack




BIC Value

BDV (V)

Max.

560

560

2000

2000




RANGE (mm)




IS/IEC - Min.

900

900

3200

3200
















RANGE
(mm)

Width

2.0 - 12.0

2.0 - 12.0

2.0 - 12.0

2.0 - 12.0
















Thickness

0.80 - 4.0

0.80 - 4.0

0.80 - 4.0

0.80 - 4.0
















Applications




For F class
Motors, Transformers, Coils

For H class
Motors, Transformers, Coils

For F class
Motors, Transformers, Coils

For H class
Motors, Transformers, Coils
















Increase in Covering Dimension :
Fibre Glass Covered Rectangular Wires

Width (mm)

Glass Fibre Bare (mm)

Glass Fibre Enamelled (mm)

Single Grade G1

Double Grade G2

Single Grade 2 G1

Double Grade 2 G2

Over

Upto

Min.

Max.

Min.

Max.

Min.

Max.

Min.

Max.

-

3.15

0.12

0.20

0.21

0.33

0.24

0.36

0.37

0.51

3.15

6.30

0.14

0.22

0.23

0.37

0.26

0.38

0.39

0.53

6.30

12.50

0.16

0.26

0.27

0.43

0.28

0.42

0.43

0.57

12.50

16.00

0.18

0.30

0.31

0.47

0.30

0.46

0.47

0.63

Fibre Glass Covered Round Wires

Size (mm)

Tolerance

Double covering Overall Dia. Max

Covering Min.

Resistance 0hm / meter at 20 Deg. C

mm

mm

mm

mm

Nom.

3.00

0.030

3.285

0.200

0.0024180

3.15

0.032

3.435

0.200

0.0021932

3.35

0.034

3.690

0.200

0.0019391

3.55

0.036

3.890

0.250

0.0017268

4.00

0.040

4.345

0.250

0.0013601

4.50

0.045

4.845

0.250

0.0010747

5.00

0.050

5.345

0.250

0.0008705

5.50

0.055

5.845

0.250

0.0007194

6.00

0.060

6.345

0.250

0.0006045

6.50

0.065

6.845

0.250

0.0005151

7.00

0.070

7.345

0.300

0.0004441

7.50

0.075

7.845

0.300

0.0003869

8.00

0.080

8.345

0.300

0.0003400