Enamelled Aluminium Wire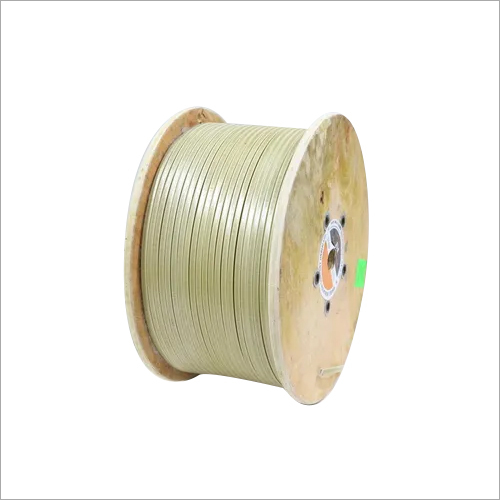 Enamelled Aluminium Wire
Product Description
Our proficiency in this domain enables us to offer a broad assortment of
Enamelled Aluminium Wire (Round
). This wire round is extensively used in electrical and electronics industry for better thermal continuity and endurance. This wire round is precisely manufactured with the use of pioneering techniques by utilizing the finest quality aluminium in line with predefined industry standards. In addition, the provided
Enamelled Aluminium Wire Round
can be bought from us in different dimensions.
Features
:
Abrasion resistance
High conductivity
Withstands high temperature
Fine finish
Enamelled Magnet Armature Winding Wires Made Of Aluminum Round
We manufacture Enamelled Aluminium wire round in the size range from 0.315 mm to 5.0 mm in various insulation system and temperature index from 155 C.
Our products comply with IEC 69317, IS 13730, NEMA 1000, and also can be produced according to customer's requirements. We can offer Round Wires in packing of 5 Kgs up to 400 Kgs.
Our enamelled wires are extensively applied in transformer, motor for air-conditioner, refrigerator, ice-box, washing machine, auto motor, compressor, microwave stove, charger, ballast, relay, degaussing coil, etc.
Technical Specification
Width (mm)

Glass Fibre Bare (mm)

Glass Fibre Enamelled (mm)

Single Grade G1

Double Grade G2

Single Grade 2 G1

Double Grade 2 G2

Over

Up to

Min.

Max.

Min.

Max.

Min.

Max.

Min.

Max.

-

3.15

0.12

0.20

0.21

0.33

0.24

0.36

0.37

0.51

3.15

6.30

0.14

0.22

0.23

0.37

0.26

0.38

0.39

0.53

6.30

12.50

0.16

0.26

0.27

0.43

0.28

0.42

0.43

0.57

12.50

16.00

0.18

0.30

0.31

0.47

0.30

0.46

0.47

0.63
Fibre Glass Covered Round Wires
| | | | | |
| --- | --- | --- | --- | --- |
| Size (mm) | Tolerance | Double covering Overall Dia. Max | Covering Min. | Resistance 0hm / meter at 20 Deg. C |
| mm | mm | mm | mm | Nom. |
| 3.00 | 0.030 | 3.285 | 0.200 | 0.0039457 |
| 3.15 | 0.032 | 3.435 | 0.200 | 0.0035789 |
| 3.35 | 0.034 | 3.690 | 0.200 | 0.0031643 |
| 3.55 | 0.036 | 3.890 | 0.250 | 0.0028178 |
| 4.00 | 0.040 | 4.345 | 0.250 | 0.0022194 |
| 4.50 | 0.045 | 4.845 | 0.250 | 0.0017536 |
| 5.00 | 0.050 | 5.345 | 0.250 | 0.0014204 |
| 5.50 | 0.055 | 5.845 | 0.250 | 0.0011739 |
| 6.00 | 0.060 | 6.345 | 0.250 | 0.0009864 |
| 6.50 | 0.065 | 6.845 | 0.250 | 0.0008405 |
| 7.00 | 0.070 | 7.345 | 0.300 | 0.0007247 |
| 7.50 | 0.075 | 7.845 | 0.300 | 0.0006313 |
| 8.00 | 0.080 | 8.345 | 0.300 | 0.0005549 |
Rectangular Wires Round Wires

PROPERTY

Type Class

BARE
155 Class

BARE
180 Class

Enamelled 155 Class

Enamelled 180 Class




PROPERTY

Type Class

BARE
155 Class

BARE
180 Class

STANDARD

IS:13730

Part 32

Part 31

Part 32

Part 31




STANDARD

IS:4685

Part I

Part I

IEC - 60317

Part 32

Part 31

Part 32

Part 31




COVERING

Double

Double

Double

SIZE

mm

2.5 mm T

2.5 mm T

2.5 mm T

2.5 mm T




ELONGATION (%)

IS - Min

25

25

COVERING

Double

Grade G2

Grade G2

Grade 2 G2

Grade 2 G2




BIC Value

30

30

ELONGATION (%)

IS/IEC - Min.

25

32

32

32




FLEXIBILITY (NO CRACK)

IS

10 X d

10 X d

BIC Value

32

40

40

40




BIC Value

6 X d

6 X d

SPRINGNESS (DEG.)

IS/IEC - Max.

5.0

5.5

5.5

5.5




HEAT SHOCK 48 HRS. UNBENT

IS

175 Deg. C

200 Deg. C

BIC Value

3.5

4.0

4.5

4.5




BIC Value

200 Deg. C

220 Deg. C

FLEXIBILITY (NO CRACK)

IS/IEC

10 x w/T

10 x w/T

10 x w/T

10 x w/T




TACKINESS 65 DEG. C -
5 MIN

IS

No Tacky

No Tacky

BIC Value

7 x w/T

7 x w/T

7 x w/T

7 x w/T




BIC Value

No Tacky

No Tacky

ADHERENCE (10% PREST.)

IS/IEC - Max.

10% Str-No Crack

10% Str-No Crack

10% Str-No Crack

10% Str-No Crack




BDV (V)

IS - Min

450

450

BIC Value

15% Str-No Crack

15% Str-No Crack

15% Str-No Crack

15% Str-No Crack




BIC Value

750

750

BDV (V)

Max.

560

560

2000

2000




RANGE (mm)




3.0 to 8.0

3.0 to 8.0

IS/IEC - Min.

800

900

3200

3200






















RANGE
(mm)

Width

4.0 - 15.0

4.0 - 15.0

4.0 - 15.0

4.0 - 15.0






















Thickness

2.0 - 6.0

2.0 - 6.0

2.0 - 6.0

2.0 - 6.0






















Applications




For F class
Motors, Transformers, Coils

For H class
Motors, Transformers, Coils

For F class
Motors, Transformers, Coils

For H class
Motors, Transformers, Coils






















Increase in Covering Dimension :
Fibre Glass Covered Rectangular Wires

Width (mm)

Glass Fibre Bare (mm)

Glass Fibre Enamelled (mm)







Single Grade G1

Double Grade G2

Single Grade 2 G1

Double Grade 2 G2







Over

Upto

Min.

Max.

Min.

Max.

Min.

Max.

Min.

Max.







-

3.15

0.12

0.20

0.21

0.33

0.24

0.36

0.37

0.51







3.15

6.30

0.14

0.22

0.23

0.37

0.26

0.38

0.39

0.53







6.30

12.50

0.16

0.26

0.27

0.43

0.28

0.42

0.43

0.57







12.50

16.00

0.18

0.30

0.31

0.47

0.30

0.46

0.47

0.63







Fibre Glass Covered Round Wires

Size (mm)

Tolerance

Double covering Overall Dia. Max

Covering Min.

Resistance 0hm / meter at 20 Deg. C







mm

mm

mm

mm

Nom.







3.00

0.030

3.285

0.200

0.0039457







3.15

0.032

3.435

0.200

0.0035789







3.35

0.034

3.690

0.200

0.0031643







3.55

0.036

3.890

0.250

0.0028178







4.00

0.040

4.345

0.250

0.0022194







4.50

0.045

4.845

0.250

0.0017536







5.00

0.050

5.345

0.250

0.0014204







5.50

0.055

5.845

0.250

0.0011739







6.00

0.060

6.345

0.250

0.0009864







6.50

0.065

6.845

0.250

0.0008405







7.00

0.070

7.345

0.300

0.0007247







7.50

0.075

7.845

0.300

0.0006313







8.00

0.080

8.345

0.300

0.0005549



Trade Information
Free samples are available

Corrugated Box
Asia, Australia, Central America, North America, South America, Eastern Europe, Western Europe, Middle East, Africa

All India